We are extremely grateful to our parents for their love and support. We are fully committed to ensuring we have a genuine partnership and recognise that parents are the first educators of their child therefore working effectively with parents and hearing their voice is a priority at St Therese.
Below is a summary from our last school survey which was conducted In February 2018: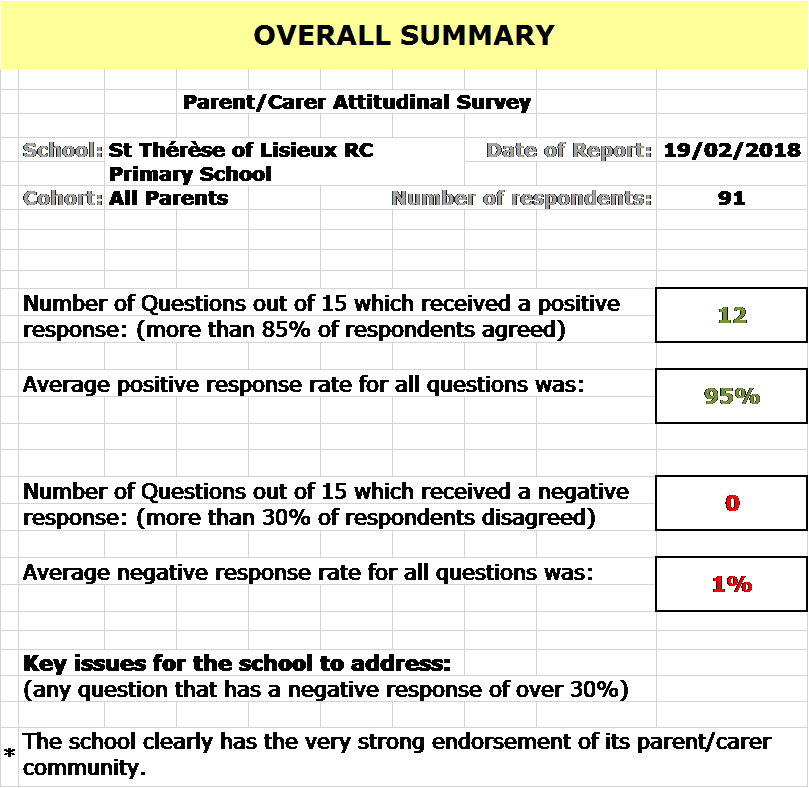 Please see our summary chart for further breakdown.
Comments from parents
My daughter feels safe because of her lovely school family.  The school always makes the time and effort for the children to feel like they belong.
I am very happy with the care and support shown to my children.
We feel very grateful to be in such a great school. Thank you
Our child loves coming to school; love lessons, is happy and making good progress. Thank you
Excellent school, teachers are brilliant, wouldn't want my children educated anywhere else.
A great workforce who continuously work hard to meet the needs of my daughter and make her feel safe and happy in school. I have always loved the fact that St Therese along with myself as a parent work together to prepare children for the transition to secondary school and help them to become well rounded individuals with a love for learning. Thank you
Action from Survey
A permanent after school club would be great
I would welcome after school provision
Permanent Before and After School Provision
There were several comments from parents requesting permanent before and after school provision. Although the school runs a range for enrichment clubs after school there was no wraparound care for working families available.
We are delighted that we now have this provision in place; from September we have formed our own provision led by St Therese staff called 'The T Club.' Further details are available on the website.
Communication on parentmail could be improved
Introduction of Parent Pay
In The summer term we changed our electronic communication system and are now using ParentPay. Over 90% families have signed up to the system and this is an effective way of communicating with parents. There is the hope that we can move towards becoming 'paperless' and using Parentpay as the main form of communication. Often letters can be lost/ not taken home and important information is missed. We also use the system for all payments including lunches, trips including electronic consent. Again our aim is to become a 'cashless' school so all payments are made via the electronic system. Parents can also use the system to 'book' sessions for the T Club.
Is it possible to change the school policy so girls can wear trousers in the colder months?  
School Uniform
We have made slight amendments to our Uniform Policy- girls are permitted to wear school trousers- guidelines on the website.
Meetings held at 8.30 are difficult for working parents to attend
Meetings
We do recognise that meetings/ events held during the school day can make it difficult for parents to attend. We do try and ensure that throughout the year we have a range of meeting times as often evening meetings do not suit families who are unable to find child care.
Our Welcome Meeting in September will be held at 5.00pm in an effort to support working parents.