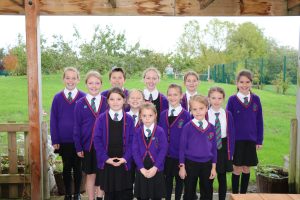 Eco Committee
Our Eco Committee meets every week on a Wednesday to plan and prepare our work for the following term.
Here are some of the things we have been doing;
We continue to recycle and look at ways to reduce waste;
Email homework tasks
Communicate with parents via ParentPay
Have recently installed new eco-friendly photocopiers in school
Road Safety workshops.
Promoting walking to school
Healthy Living;
Free fruit
clean water bottles
Healthy living – school dinners and packed lunches
Health & Fitness Week;
healthy eating
mind, body and soul development
Stamina to begin the week.
We became a Dementia Friendly School, the staff received training and workshops were delivered to the children.
Care home visits;
the children have read to the residents
made Christmas cards
celebrated a 100th  birthday
joined in a cycle for Alzheimer's fund raising
Held a sponsored run and raised £722 for The British Heart Foundation
Green Flag Award
We are thrilled and very proud to announce that our school has been awarded our Green Flag in recognition of our commitment to eco-issues.
The following is a quote from the letter that officially confirms our award.
"Following your recent green flag assessment, I am pleased to confirm that you have been awarded your Green Flag. I would like to congratulate you for all the time and effort that has been invested in environmental education at your school. Your award is well-deserved and reflects the hard work you have put into the programme so far."
The assessor wanted us to pass on some suggestions which may help strengthen your Eco-Schools work in the future:
"The school is clearly committed to every topic of Eco-Schools and it is impossible for me to suggest anything more that they could do. Eco-Schools is clearly embedded into everything that they do – keep up the good work!"
The assessor commented that the Eco-Committee were extremely knowledgeable and utterly passionate about the work that they have done. They were a delight to speak to. The teacher and teaching assistant were obviously working very hard to pull everything together and are a credit to the school."
Eco-Schools is a global programme that encourages pupils and teachers to come up with fun, eco-friendly projects to help make their school a more pleasant place to be and reduce its impact on the environment.
Previously, we saw a dramatic improvement in our school grounds with the addition of two new outside learning areas, the development of our wildlife garden and the planting of over 150 hedgerow plants and trees.
We aimed to reduce our energy usage by taking part in the Switch off Fortnight programme. We also continued our work to improve our school grounds with more planting .
If you are interested in supporting the children with the extensive task of maintaining our gardens we would be very grateful for any help.